Thank you for your interest in our special call center webinar series. Below you will find information about each
webinar and links to access the recordings. Please bookmark this page for future access.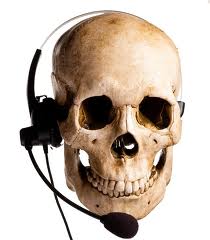 Dead Call Center Talking
___________________________________________________________________________________________

Why IVRs and Benchmarking Are Likely Dooming Your Customer's Experience

Discover why so many call center operations have no chance to satisfy, let
alone delight, customers; and how good call centers can move closer to
greatness.
Part I: Strategic IVR Management

Strategies and

Best Practices for Improving
The IVR Experience

In part I of this series, Mark Miller, Senior Director of
J.D. Power's Contact Center Practice discusses why many current IVR strategies, technologies and policies unwittingly create significant problems for their customers, operation and their brand.

Specifically, you will learn:

The most common strategic error being made today regarding how IVRs are being used


Call routing strategies and their implications


The big DO's and DON'Ts with your IVR system


IVR capabilities that lead to a better customer experience and some that dont's

Learn more about IVR:
For more IVR resources and information from
J.D. Power and Associates, visit our IVR resources page or submit this form to request more information.

Part II: Benchmarks From Top Performers

How Customer Centric Companies Perform






When it comes to benchmarking, there are two key
questions that need to be answered, but often aren't
asked:

1. "Who should organizations benchmark against?"

2. "When should benchmarks be ignored?"

In Part II of this series, Mark offers perspective on these questions and shares key insights, performance standards and leading practices gleaned from J.D. Power's Certified Call Center Program. You will learn:

Performance Benchmarks from top performers


Operations KPI's from top performers


Strategic priorities common among top performers

Learn more about Benchmarking:
To learn more about J.D. Power call center benchmarking download this informational brochure, download the webinar Q&A, or submit this form to request more information.


Reproduction of any material contained in this publication, including photocopying of this publication in whole or
in part, is prohibited without the express written permission of J.D. Power and Associates. Advertising claims
cannot be based on information included in this publication.
© 2011 J.D. Power and Associates, The McGraw-Hill Companies, Inc. All Rights Reserved